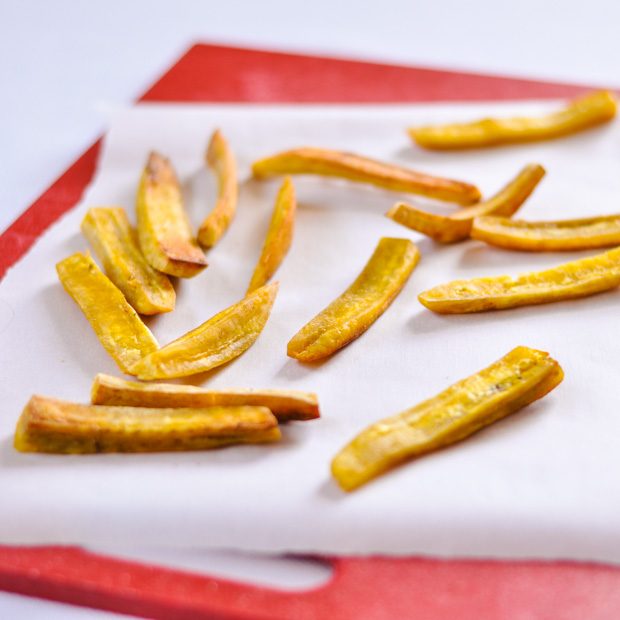 Ahh Banana Fries, how they take me back to our Honeymoon in Jamaica.  It seems like so long ago now that we spent those first few married days basking carelessly in paradise.  Now five years and two lovies later it is a very different kind of magic in our everyday lives.
I can still remember the feel of the sun and the hauntingly gorgeous water and beaches. There was such a sense of peace being on vacation in such a setting. I had never been to such a beautiful hotel and island such as this before in my life. In those days of romantic escape all the cares of the world were very far away indeed.
One of the best perks was all of the extremely delicious food offered at the resort. At first it felt funny to go to 5 star quality restaurants and not even be able to leave a tip (due to it being all inclusive). We were able to try a different cuisine almost every night and were never disappointed.
My one whine has to be that it was not until 2 days before we were going to leave that I discovered the best thing I ate the entire time. We decided to stick poolside one afternoon and went to a tiny outdoor spot nearby.
I was instantly excited when I saw the menu. They had Jerk Pork and Chicken, Rice and Peas and all the traditional island favorites. One thing that immediately caught my eye on the menu was the "Banana Fries." They are basically Plantains (non sweet ones) cut like fries and fried…..genius! I grew up eating this type of Plantain as Tostones (twice fried version).
They were delicious and went perfectly with the Jerk Pork. I was a little sad I discovered it too late but I made the best of it by visiting as much as I could before leaving ;).
Give these fries a try and you may drift away on a cloud of Steel Drums and Sunshine. Okay you won't but you will still be glad you did. 🙂