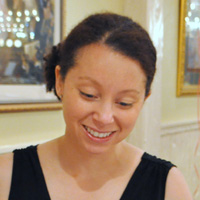 My name is Nicole. I am a Mami to two beautiful lovies, a wife and a recent mental health therapist.
I have always enjoyed cooking since I was a child. Some of my fondest childhood memories take place in the kitchen preparing meals first with my mother, and then on my own. Being from a Trinidadian and Puerto Rican background, I grew up with a love of bold flavors and spices. My childhood friends' family invited me into their world of Indian cooking. As you will come to see, this had a major influence on me.
I love to challenge myself with new ideas and create my own when possible. I really enjoy experimenting with spices and merging different cuisines together. I often find that if you stop worrying and trust your instincts you can be greatly rewarded.
Since I have had the wee ones I have really tried to work on finding ways to shape their tiny palates to enjoy a variety of fresh beautiful food. I am always looking for clever ways to incorporate more vegetables into my toddlers' diet. It is not always easy but I have a few tricks I will share.
I find myself watching far too many cooking shows in my spare time.  I will also admit I have been known to treat cookbooks like novels. Follow along with me on my journey. I will take you around the world, but it will always feel like home.
Follow me on Twitter at @MyLoveForCookin.