This has been quite a week for sure! We are in the "real deal" stage of potty training my 2 year old baby boy lovie. It is really an exciting time but I have to say there is a tinge of sadness at seeing my baby boy grow up so fast. He has really taken to it quite well and we are so proud of him.
We have also implemented a way to encourage positive behavior in both the lovies. We had previously tried a star chart method that was honestly tedious to track and we gave up on it.
Mike got an idea from a friend at work that has worked like a charm. We've started a token system to motivate the kids. We use home game poker chips and the cylinders they came in.  Each time the babies are "caught being good" such as doing an unprompted act of kindness or helpfulness they get a token.  There are also the staple tasks such as getting ready for sleep routines and napping, and for little mister potty success counts as well.  When the cylinders get filled they earn a trip to get a small prize for all their good deeds.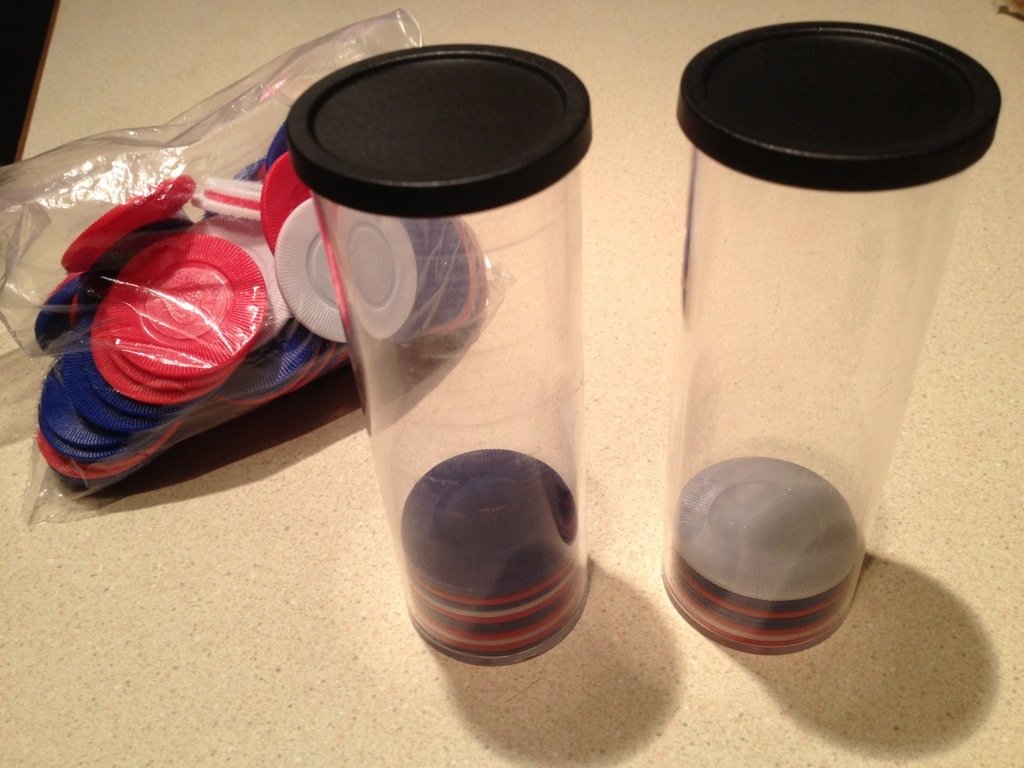 Yesterday was a big day, PRIZE DAY! 🙂 The lovies were so excited to go and get their rewards. We headed over to Target and a mere 2 hours later we finally left, haha!  Blueberry girl was done in 10 minutes when she saw the Cinderella doll on the shelf.  Our little Poppy boy was not so easy to come to a decision (not sure where he gets that from ;).  He changed his mind about a million and a half times and we finally left with a ball (to add to the pile we have at home). 🙂
As for me, I have been trying hard lately to set reasonable goals for myself in all areas of my life.  Some days I am better at keeping those promises than others but I am making progress.
I feel that it is important for me to embrace this time of transition while looking for a job in my field and I am working to make the most of it.  However, it feels important to find balance and not lose myself completely to the constant demands of being a Stay at Home Mami again.
I have managed to find some little ways to do that for myself.  I have begun an exercise routine where I am working out 5 days a week at home first thing in the morning.  The lovies have been so wonderful with knowing they need to work on a project or other tabletop activity while Mami does her workout. In the rotation there are Yoga workouts that range from Vinyasa Yoga, Yoga with weights and Yoga for sculpting as well as a couple Bollywood inspired workouts that are really super fun.  I am a bit of a closet Bollywood movie fan ;).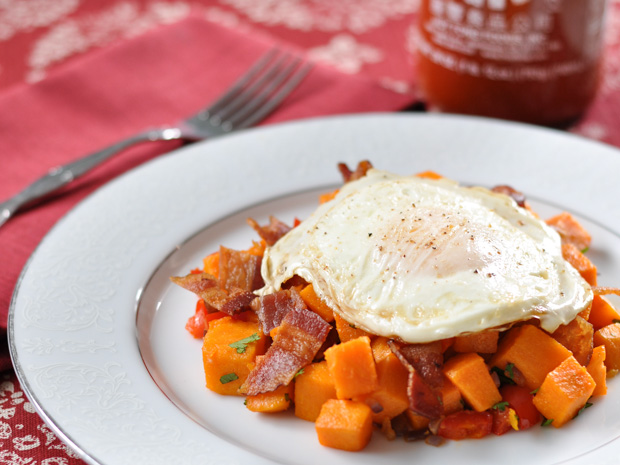 I have also had some goals for myself here on the blog.  My "to cook list" has been sitting for quite some time now and I have often let life get in the way.  At times I have gone with something else that felt more convenient.  This is not to say that I don't put recipes I love on the site.  I always try to share things that really mean something to me.  However, I have neglected some things I am surprised I have not made.
This recipe here was something I have had on the shelf (in another form originally) from quite a bit ago.  I really enjoyed the idea of the spicy and sweet and touch of a salty combination.  I hope you will too. 🙂
Sriracha Sweet Potato and Bacon Hash
Author:
Prep time:
Cook time:
Total time:
Ingredients
2 medium Sweet Potatoes
1/2 Red Pepper Diced
1/4 Red Onion Diced
2 small cloves garlic diced
Sriracha (to taste)
Salt (to taste)
White Pepper (to taste) or Black Pepper
Olive oil drizzled (about 2 Tbs) and some for pan
Bacon (4-5 strips)
Egg (optional for topping and amount depends on # of ppl eating)
Low Sodium Chicken broth (optional for hydrating while cooking)
Instructions
Spread Bacon on a cookie sheet and cook on 350 till crisp (about 10 -12 mins, turning halfway). Drain and set aside.
Clean, peel and dice the sweet potato
Season the potatoes to taste with salt, pepper and Sriracha
Drizzle a little olive on the potatoes and mix well
Drizzle a bit more oil on the pan
Heat to medium heat and then add potatoes
Cover and cook till half cooked
Add the pepper, onion and garlic and add a bit of broth if it gets dry
Cover and continue to cook till potatoes are tender and veggies are softened.
Plate and add crumbled Bacon
Cook egg(s) to desired texture and top hash with it