Today, I bring you chocolate balsamic pancakes with strawberries. Okay, I know this is a far reaching idea. Mandarano gave me a chance to try out their Balsamic Glaze and Sauce. They asked me to come up with a recipe using it to share with all of you. I was really excited and honored for them to contact me to highlight their product.
To be honest, I have never cooked with a sauce like this before. However, I have seen plenty of recipes that used this type of ingredient and was very happy to try it out. There are already many tried and true delicious ways to use it that I have ordered in restaurants or seen on TV. I had to think of something unique.
I searched and searched for inspiration. Finally, I decided on the recipe you see here. The hubby was totally not a believer. This made me a little nervous, but it actually turned out really well.  The real test was when my four year old started attacking the chocolate balsamic pancake with strawberries pile after the photos and kept saying over and over "Thank you Mami, thank you for these delicious pancakes!"  Slam Dunk in my book! 😉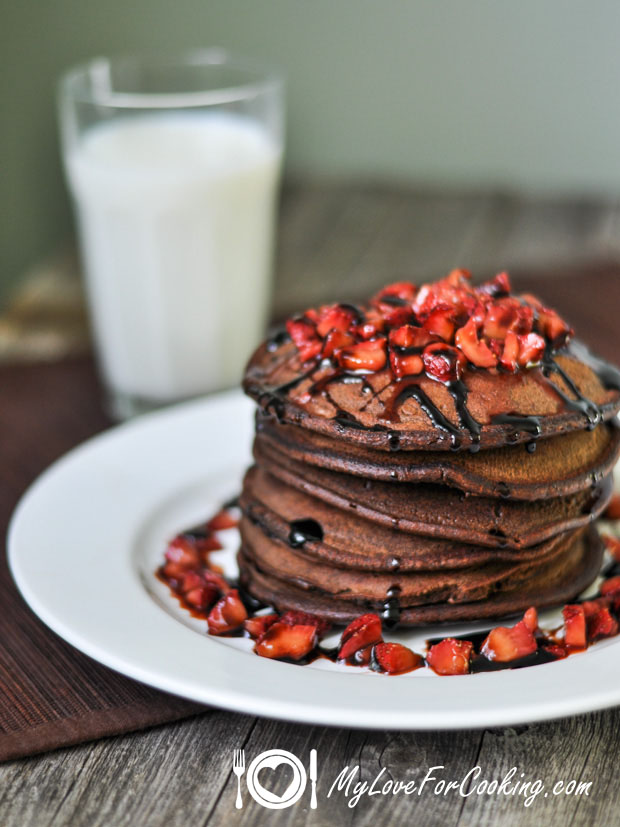 As for the glaze, it really is SO good!  I cannot wait to make more things with it. I even drizzled some on my grilled cheese to experiment and it was delicious. I also drizzled it on some grilled chicken, and it was divine. Of course you should definitely start with these Chocolate Balsamic Pancakes with Strawberries. You should definitely this sauce a try.  The experience I have had with the company has been wonderful and the product is of excellent quality. Interested in ordering some for yourself? You can find them here.