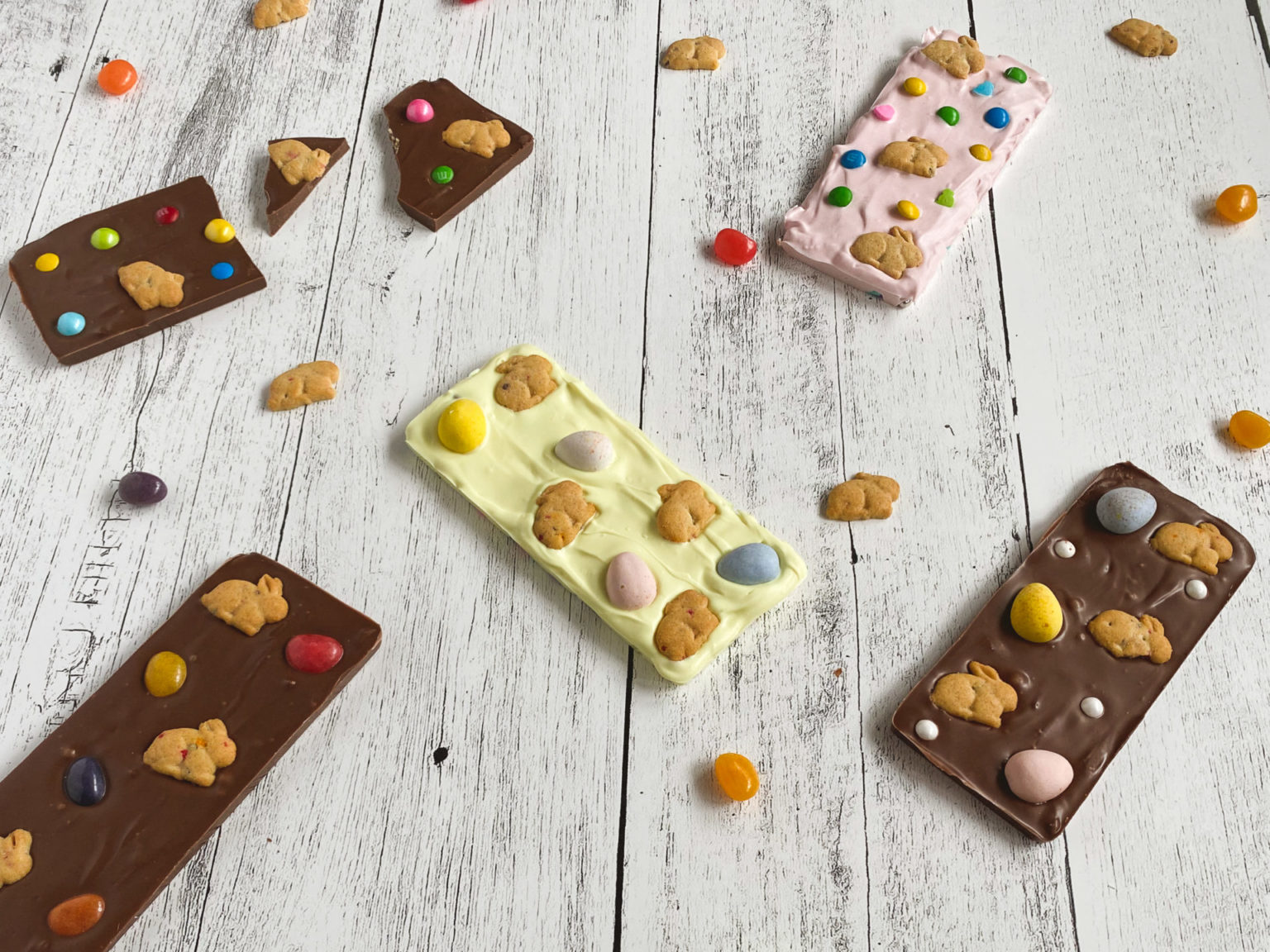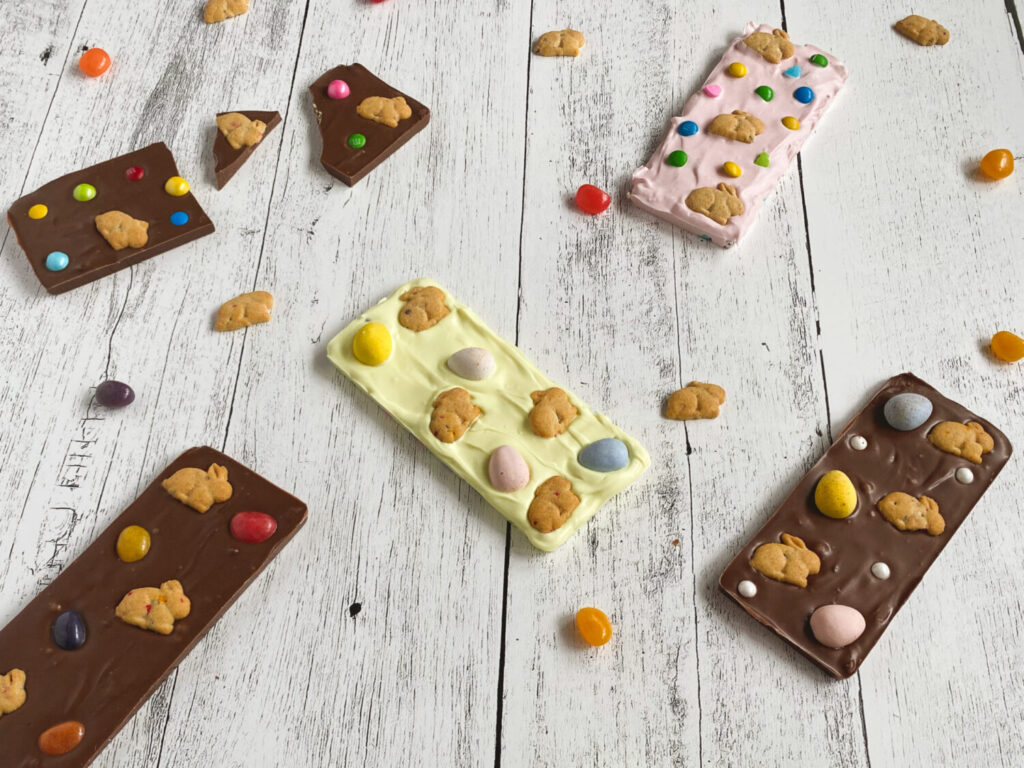 It's about that time to start thinking about Easter if you celebrate. These Easter Chocolate Bars are going to make you a hit. We love to celebrate the element of rebirth and the Earth coming back to life after the long dreary Winter months. The lovies of course love the concept of Egg hunts and baskets brimming with treats. I am also know for slipping in books from their wishlists into the baskets.
I love any excuse to cook and bake festive desserts. Of course I fully admit that here I neither cooked or baked really. However, it was really fun to make some of my own treats for the baskets. These Easter Chocolate Bars can be completely customizable so feel free to use any style of Chocolate or candies you like. Here is what I used to make mine.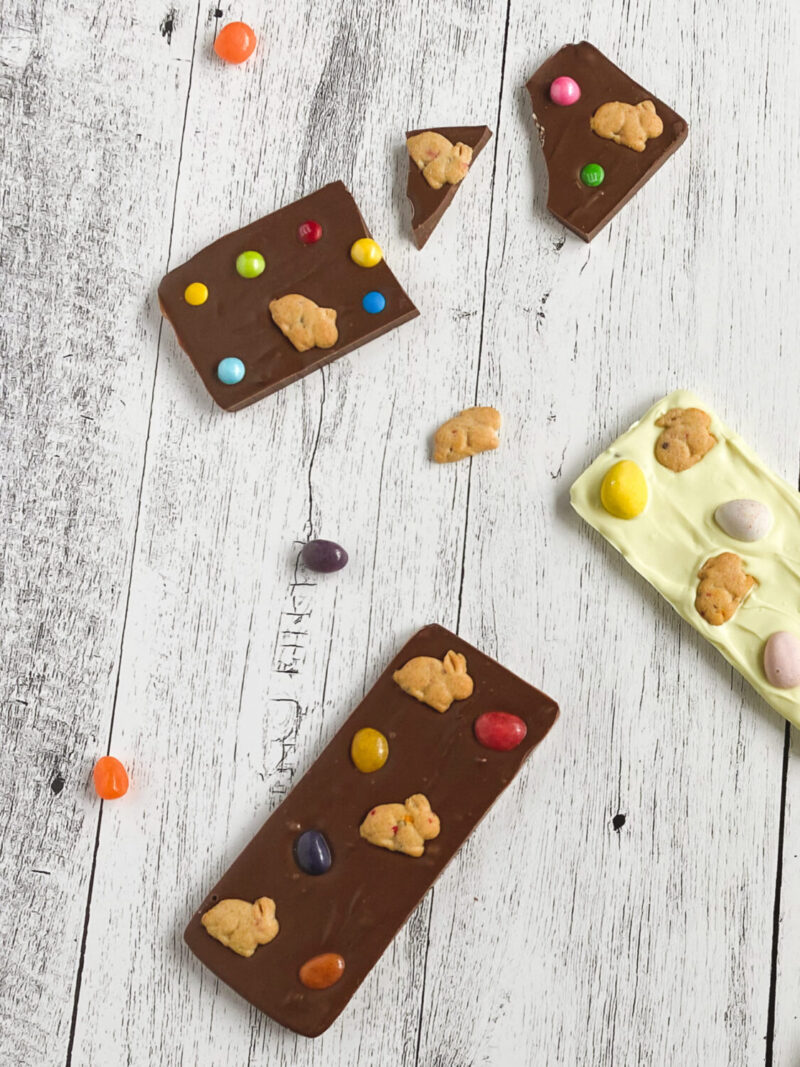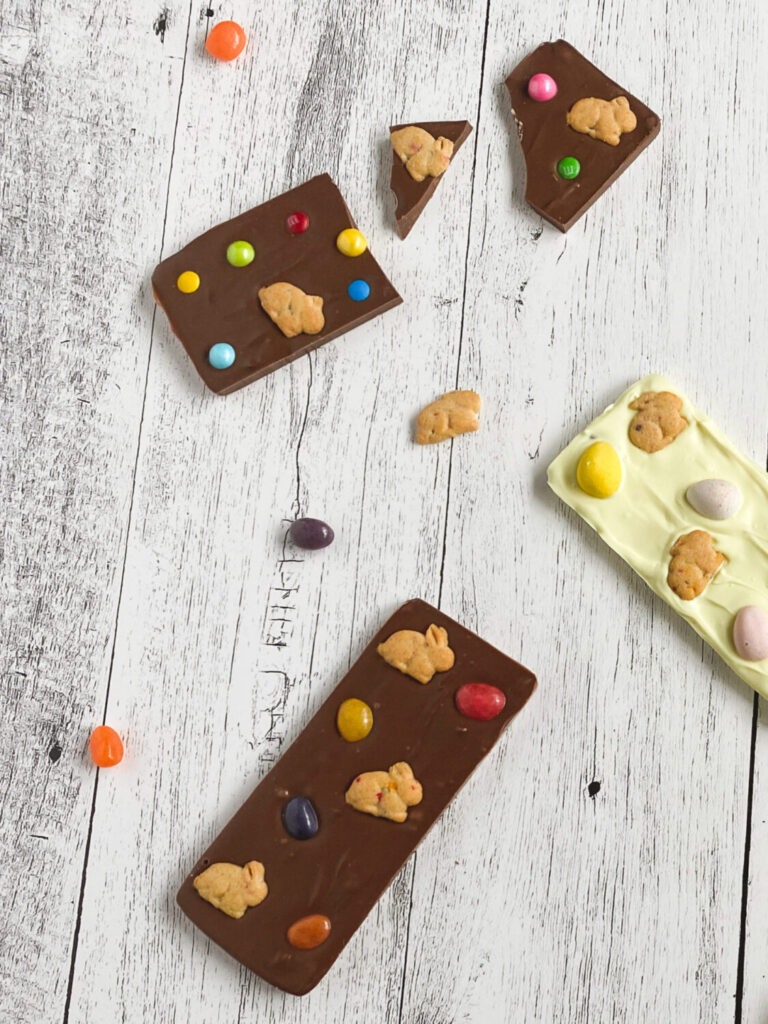 Chocolate Bar Molds
Looking for the "perfect mold" was kinda like finding a Unicorn for a minute. Finally Amazon to the rescue and here we have the one I used for this recipe. It was the perfect side and shape I was looking for. It is just simple with no lines which allows the toppings of this Easter Chocolate Bar to shine.
Ingredients
Annie's Bunny Cookies – I have been a fan of Annie's since my lovies were just born. I have been on a quest to try and feed them as natural and healthy as I can for the majority of their food. Annie's is always a choice I can feel good about. When I saw these birthday cake Bunny cookies it was OVER! I knew this Easter Chocolate Bar needed them. They were so cute and the colors were perfect. Cookies stuck in a chocolate bar you may ask but I say, give it a go. It's a match made in heaven.
Jelly Beans for the Chocolate Bar – I have to admit that Jelly Beans have never been one of my favorite candies, even in childhood. However, once other flavors started coming into the mix I opened myself up to give them a chance. I just recently found that Welch's makes jellybeans that are made with Apple Juice Concentrate! LOVE! I know it may seem a bit funny to add jelly beans into a Easter Chocolate Bar but with these it is like chocolate dipped fruit.
Sprinkles – I really wanted these Chocolate bars to be over the top glamorous and adorable at the same time. I found these Egg Hunt Sprinkles on Amazon and was head over heels.
Cadbury Mini Eggs – Need I say more? These Cadbury Mini Eggs are just literal perfection. If you recall I used them in my Mini Egg Scones awhile back. These are good all by themselves but stuffed into more Chocolate, what's not to like?
Chocolate Coloring – I normally cringe at artificial colorings in things so I use it very sparingly if at all. For awhile now, I have been wanting to try some natural ones for some time now. I came across these colors from the brand Watkins and I adore them. They are perfect for these pastel colors of these Easter Chocolate Bars.