A good Foodie Friend of mine Bakeaholic Mama  (she is awesome btw check her out) was just talking about her current "Baby Fever" she has been having and it made me realize I have a touch of it too.
No, no before you get the wrong idea I am NOT looking to have a third lovie! 🙂  I am very content with my set.  However, today as we shopped for a "big boy bed" for my little mister (now that he is doing so well with potty training) I couldn't help but tear up a little.
As I looked at him growing literally way too fast (he is so tall for 2 1/2) I can't stop myself from wishing he would slow down just a bit.  I know he is still such a baby and he still needs me so much, but it is a still hard to see it pass by so fast.
I suppose knowing he is my last baby makes it seem to slip away that much quicker.   I am so very proud of all his progress, but there are times I do wish he was still small enough to be my "gumball" again.  Sheesh I still wish that about my Blueberry girl!  Haha. 🙂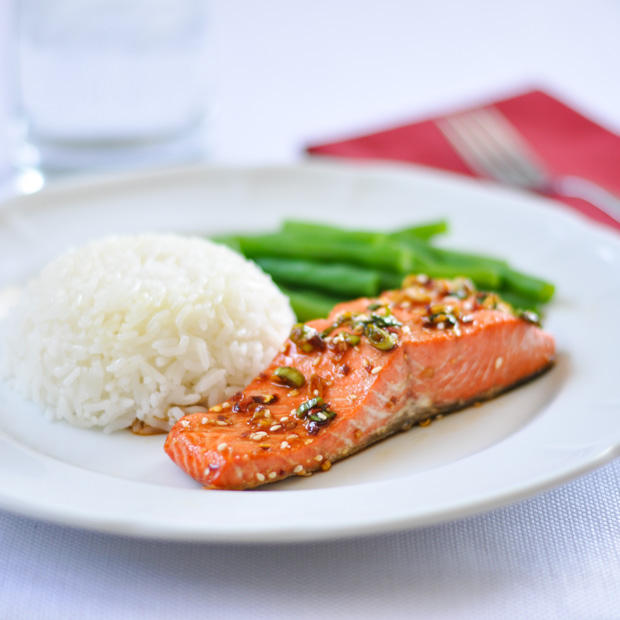 At the end of the day it is fine because every step is precious and miraculous in its own way.  Although I wouldn't be surprised if I end up like that Mom from "Love you forever" sneaking across town to their houses and rocking them to sleep singing the song (I have it up on his nursery wall) :
"I'll love you forever.  I'll like you for always.  As long as I'm living, my baby you'll be."
Okay, on to the fish! 🙂  This is a very flavorful and super simple dish.  You can make the sauce ahead of time and make it an even quicker weeknight meal.  I used a grill pan to cook the fish but cook it anyway you like.  It pairs well with rice or noodles would also be very nice.  Enjoy!