The warm weather has really sparked a flurry of outdoor activity already.  It is amazing how invigorated a little sunshine can make you feel.  I have been spending a lot of time picnicking and playing with the lovies.  It means the world to me that they love nature as much as they do.
We have also been doing a lot of gardening.  Aside from my raised bed garden I have also taken on half of a plot of my mother in law's community garden.  I was a bit shocked at how much space this actually turned out to be.  I went from wondering if I would have enough room to expanding to a few vegetables I had not originally planned for.  That is the great thing about unforeseen opportunities, they give you chances you never knew you wanted to take.
I know it is only a little garden but it really has lent me a great deal of enjoyment and peace in a beautiful but very fast paced existence right now.  The idea of what I can possibly bring to life and use to feed my family and create with is exciting.
*Fingers crossed* I have Campari Tomatoes, Eggplant, Leaf Lettuce, Basil, Green Beans, Sugar Pumpkins, Zucchini, Broccoli, Thai Chiles and Jalapenos that will grow.
Speaking of food, on to the recipe.  I have long been curious to try my hand at making a pudding with Quinoa.  My first attempt was very well received by the lovies but I found it a little thin.  I had used a refrigerated blend of coconut and almond milk and it did not seem to set as I would have liked.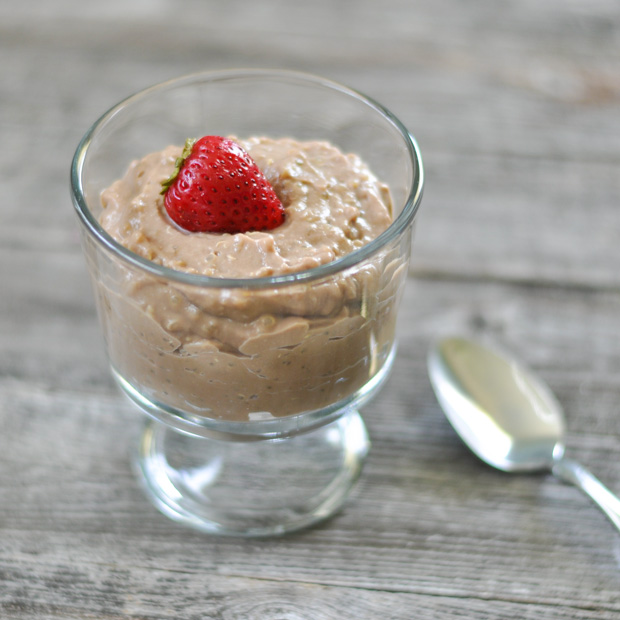 This time I used canned Coconut milk and a bit more cornstarch and it achieved the luxurious and creamy texture I was looking for.  To quote my lovie girl "Mami's Chocolate pudding is my favorite treat."  FYI it beat out Ice Cream for her. 😉  Give this a try and you may just have a new favorite too.

Quinoa Chocolate Pudding
Author:
My Love for Cooking
Ingredients
½ cup uncooked Quinoa
1 cup Water
½ cup Sugar
⅛ tsp Salt
2½ Tbs Cornstarch
1 Tbs Unsweetened Cocoa
1 Egg
3 Cups Canned Coconut Milk (1½ cans)
Instructions
Place Quinoa and water into a saucepan with a tight cover and bring to a boil over medium heat then reduce to heat to low and allow to cook covered for about 15-20 minutes or until middles are clear and "tails" appear inside.
In another saucepan whisk Sugar, Cornstarch and Salt and Cocoa. Then whisk in Egg. Add milk and whisk to combine. Add in Cooked Quinoa.
Heat to med, med-high and stir constantly while bringing to a boil. Allow to boil for about 30 seconds then remove from heat.
Allow to cool for about 30 minutes uncovered.
You can eat warm or (as we did) refrigerate and eat chilled.
Related posts:
Nicole Michaud