I actually saw these around Pinterest and traced them back to the amazing Lauren from Lauren's Latest, of course she rocks!
  I made a few small adjustments and they were just as good as she promised.
I made a batch of these for our annual holiday get together with my hubby's side of the family and they were a big hit. Well a little more than a hit, haha.  Seriously I suggest snatching one of these before you serve because these were gone in under 10 minutes :).
They are a perfect little bite, enjoy.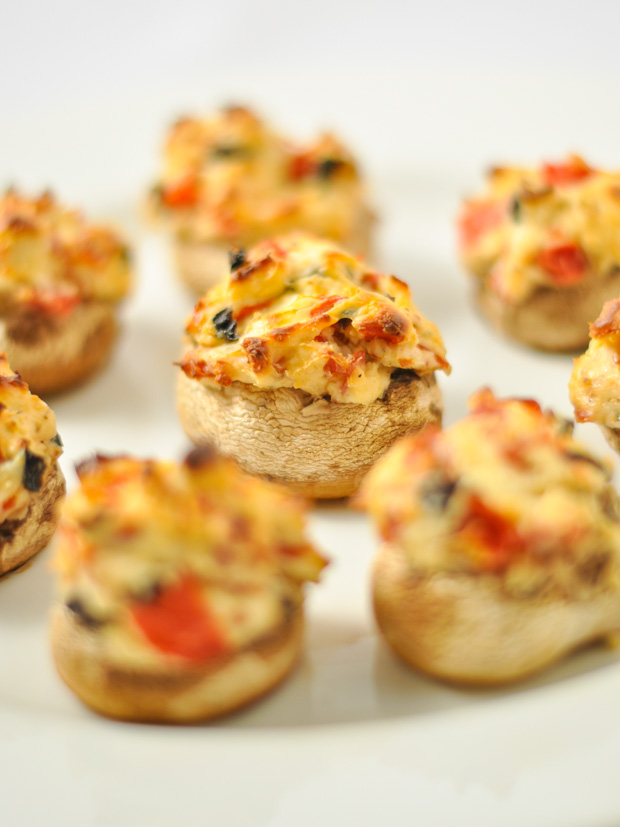 Pepperoni Pizza Stuffed Mushrooms
Author:
My Love for Cooking
Ingredients
1 package mushrooms (I used white button but you can use Baby Bella, etc)
4 ounces Cream Cheese softened (I use Nuefchatel Cheese)
¼ cup Parmesan Cheese or Mozzarella Cheese
⅛ tsp Oregano
¼ tsp Dried Basil*
Garlic Powder - to taste
Red Pepper flakes - to taste (optional)
¼ cup finely diced Pepperoni (I used Turkey Pepperoni)
2 Tbs diced Black Olives
2 Tbs Finely Diced Tomatoes (seeded and patted dry)
Instructions
Wipe down mushrooms with damp paper towel
Pop out stems and set aside
Preheat oven 350 degrees
Mix cream cheese and all seasonings together
Mix in all the diced ingredients and mix in
Spoon mixture into each cap
Spray a cookie sheet and place the mushrooms on it
Bake for 20 minutes
Broil for 5 minutes to brown tops and serve immediately.
Notes
* I used McCormicks Italian seasoning grinder instead of dried Basil
Related posts:
Nicole Michaud