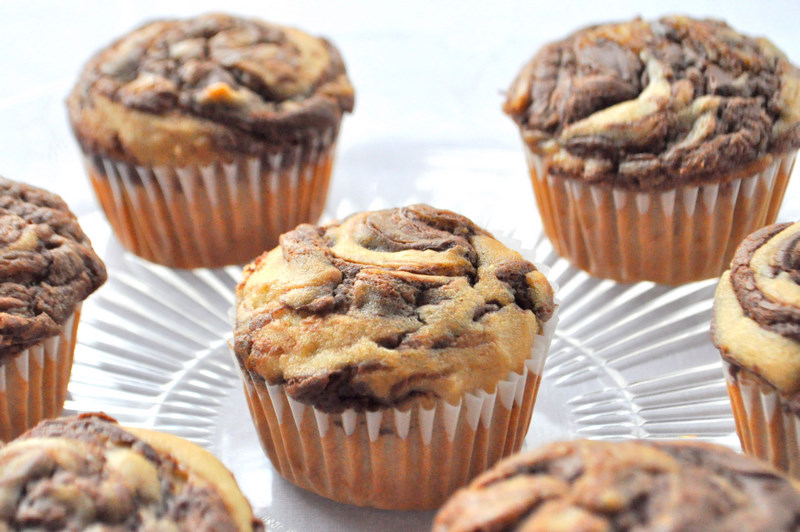 One year ago today I welcomed my second lovie into the world. He has brightened my life and filled my heart beyond my imagination. I wanted to make a special little morning surprise for him when he woke up this morning. He is a big waffle, pancake or toast type of little guy. I decided to introduce something new in something he really enjoyed. He had yet to try peanuts or cocoa so I married all the ingredients into a yummy little package and him and his sister were very pleased with Mami this morning I am happy to say. Happy Birthday Baby Joy!

Peanut Butter Banana Muffins with Nutella Swirl
Author:
My Love for Cooking
Ingredients
1¾ cup All purpose Flour
1 tsp baking powder
½ tsp baking soda
¼ tsp salt
¾ cup sugar
¼ cup softened unsalted butter
½ cup peanut butter
2 eggs
4 large bananas
4-5 tablespoons Nutella softened (mix with fork till soft)
Instructions
Preheat oven to 350
In a small bowl, whisk together flour, baking powder, baking soda and salt
In a separate bowl mix butter and sugar till fluffy with electric mixer
Add peanut butter and banana and then mix in eggs one at a time
Beat in flour mixture on low till incorporated
Evenly distribute among greased or lined muffin tins
In a small bowl whisk Nutella with a fork drop a small tsp into middle of each muffin
Use a toothpick to gentlyswirl the Nutella into the muffin in a circular pattern
Bake at 350 for 20-25 minutes or until a toothpick comes out clean.
Related posts:
Nicole Michaud