This is a  far reaching idea I know.  I was approached by Mandarano to try out their Balsamic Glaze and Sauce and come up with a recipe using it to share with all of you.  I was really excited and honored for them to contact me to highlight their product.  To be honest I have never really cooked with a sauce like this before.   I have of course seen plenty of recipes that used this type of ingredient and was very happy to try it out.  Although I know there are many tried and true delicious ways to use it that I have ordered in restaurants or seen on TV I was determined to think of something unique.
I searched for inspirations and then I decided on the recipe you see here.  I have to admit I was a little nervous and the hubby was totally not a believer but it actually turned out really well.  The real test was when my four year old  started attacking the pancake pile after the photos and kept saying over and over "Thank you Mami, thank you for these delicious pancakes!"  Slam Dunk in my book! 😉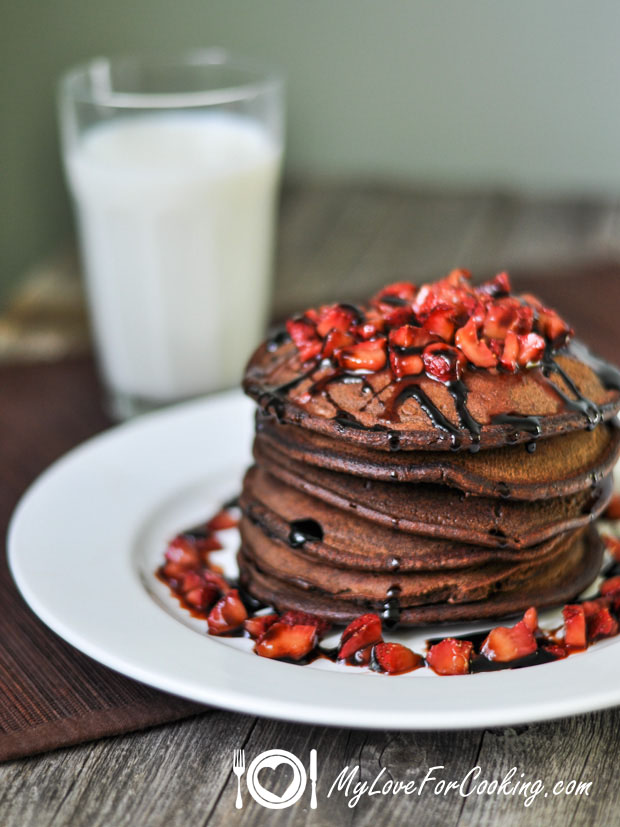 As for the glaze it really is SO good!  I cannot wait to make more things with it. I even drizzled some on my grilled cheese to experiment and it was delicious.  I highly recommend giving this sauce a try.  The contact I have had with the company has been wonderful and the product is of excellent quality.  If you are interested in ordering some for yourself you can find them here.

Chocolate Balsamic Pancakes with Strawberries
Author:
My Love for Cooking
Ingredients
Pancakes
1 cup of milk
1 egg
2 tablespoons of melted unsalted butter
1 cup of flour
⅓ cup cocoa powder
¼ cup sugar
½ teaspoon baking soda
½ teaspoon salt
Topping
1- 1½ cups diced Strawberries
3 TBS Mandarano Glaze and Sauce (or to taste)
¾ cup Chocolate Sauce* (optional)
Instructions
Combine milk, eggs, Mandarano Balsamic Glaze and Sauce and melted butter, beat till combined.
In a separate bowl mix flour, cocoa and baking soda then add sugar and salt
Slowly mix the dry ingredients into the wet mixture till combined.
Heat pan/griddle
Notes
*You can mix the Chocolate Sauce with the Balsamic Glaze if you prefer but my 2 and 4 year old loved the cakes with just the Strawberries mixed in the Balsamic Glaze. :)
Related posts:
Nicole Michaud