As I sit here I am thinking about how much I enjoy the weekends filled with giggles and family time. We had such a good time taking the lovies to a local amusement park yesterday. It is incredible the amount of joy and fulfillment I feel just watching them have fun. The look on their beaming faces of pure wonder and happiness almost brings me to tears every single time. 🙂 It really makes me look at the world from a hopeful place no matter what the obstacles. We had a great weekend and of course cooking was a big part as always. Miss Blue has become my faithful companion in the kitchen.
Speaking of food let's talk about this recipe. I am really excited to share it with you. It is based on a recipe from my good friend Pri from Recipris. She has a wonderful vegetarian blog that highlights amazing world cultures along with everyday comfort food.
A few months back I saw her recipe for Spinach Parmesan Balls as a vegetarian alternative to Meatballs. I was instantly intrigued and unlike so many recipes I "save for later" I actually made them pretty soon afterwards. However, I decided to make a small alteration by subbing the Onion for Sun dried Tomato. I contacted Pri and let her know about my spin on her wonderful dish. She graciously gave her blessing for me to publish my version of her dish here to share with you.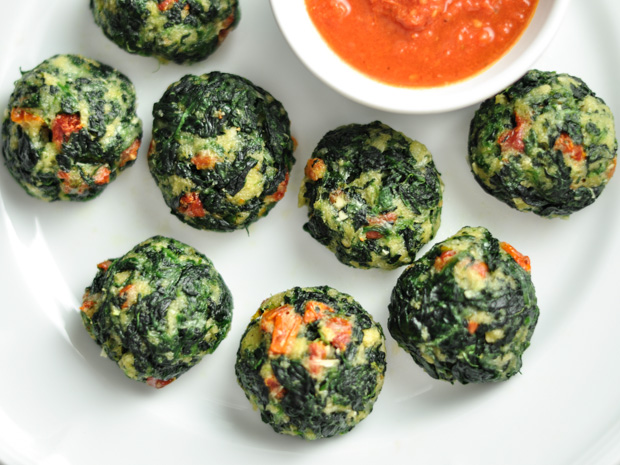 I would like to give a big thank you to Sara from MyImperfectKitchen (please check out her wonderful page). She is such a lovely person and has a ton of creative and delicious dishes on her page. She had a giveaway she ran for Organic girl's greens and I actually won! One of my gifts was a container of beautiful spinach. The quality was amazing and I will be looking to purchase them in the future. I knew winning was a sign to make this recipe.
These would make a great meatless Monday alternative with Pasta, as a meatless sub or even as an appetizer with some homemade marinara like this. Give these a try and you will not be disappointed. Please go show some love to my friend Pri and Recipris who made this recipe possible. She is sweet, creative, passionate about food and pretty adorable! 🙂 Thank you so much Pri for sharing your yummy recipe with me.