This is one of my all time favorite recipes for a marinade. It seems like a lot of ingredients but it is seriously worth it. It has just the right combination of flavors and spice without being overly spicy. I first made this for a dear friend and I was so grateful for finding this on About.com. Give this a try and you will be so very happy you did.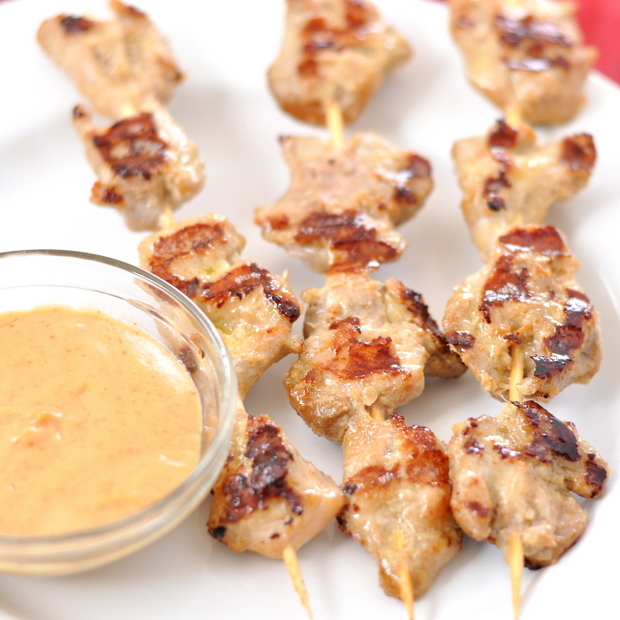 A perfect companion is a Peanut Dipping sauce. You can find an easy version here courtesy of my foodie friend at She Simmers (she is a Thai cooking genius, check her out).
Chicken Satay
Author:
Ingredients
8-12 skinless boneless chicken thighs
1 package wooden skewers
Satay Marinade
1/4 cup minced lemongrass (fresh or frozen)
2 Shallots or 1 small onion
3 cloves garlic
1-2 fresh chilies sliced, or 1/2 tsp to 1 tsp. cayenne pepper, to taste
1 Thumb size piece galangal or ginger, thinly sliced
1 tsp minced fresh Tumeric or 1/2 tsp dried Tumeric
2 Tbsp ground coriander
2 tsp cumin
3 Tbsp dark soy sauce
4 Tbsp Fish Sauce
5-6 Tbsp brown sugar
2 Tbsp vegetable oil
Instructions
If using wooden skewers, soak them to prevent burning
Cut chicken into thin strips and place in bowl
Place all marinade ingredients into food processor or chopper. Process well.
Taste test – The most prominent tats should be sweet then salty to taste its best. Add more sugar or fish salt in place of salt and adjust to taste. You can also add more chili for spice.
Pour marinade over meat and combine well. Allow to marinade at least and hour (up to 24 hours).
Thread meat on skewers (3/4 full to leave space to handle it).
Grill on BBQ or indoor grill.grill pan.
Meat should cook for about 10 minutes per side or until done through.
3.1.09