This year my dear friend Beth and I hit a big milestone, this was our 5th year doing our Christmas baking as a team.  It all started when I first moved from my lifelong home in New York to live with my now husband in CT.  She started out as my teaching partner and quickly became one of my closest friends.  We started in my super tiny apt kitchen with a lot of enthusiasm and no real experience with baking in mass.
I recall the first year we sat exhausted but proud at about 1:30 in the morning looking at what we made.  I was smiling and feeling accomplished when it hit me….I didn't know anyone in CT yet! 🙂  We still have a good laugh at that one. Of course I was able to secure homes for all the little baked friends and since that first year somehow word has spread and more and more people are squeezing onto the list.
Over the years Beth and I have had a lot of laughs while doing our Cookie bakes. We have had our share of flops….like the year I tried to make Besitos de Coco (Coconut kisses) and ended up with a sticky brown mess I thought I would never be able to scrap out of the pan.  There have definitely been mishaps but we always end up feeling proud of our efforts and with a few last minute additions. We are famous for finding "just one more" recipe to add to our list.
With experience and time we have smartened up and learned ways to make things go much smoother. We started breaking the baking into more than one day and preparing some dough ahead of time.  It has worked out really well to try and avoid a mad one day marathon till the wee hours of the night.  Despite adding chocolates and candies to our list we have done surprising well in getting though our adventures in increasingly record time.  We have managed to not miss a year since we started which was not a small feat. During our bake in 2009 I was (I did not know at the time) only a week away from giving birth to my first lovie.  I remember trying to act all cool like I wasn't tired and then after hours of baking I had to take a "time out" for my poor aching feet.
Through it all Beth has been the most supportive and wonderful partner in dough I could hope for.  We always work together in perfect synch and she has been so understanding of the increasing chaos in my house with two little lovies wanting to be "helpers" in the kitchen.  Despite all the hard work it is one of my favorite things about the holiday.  I look forward to trying to top ourselves year after year and making many more wonderful memories.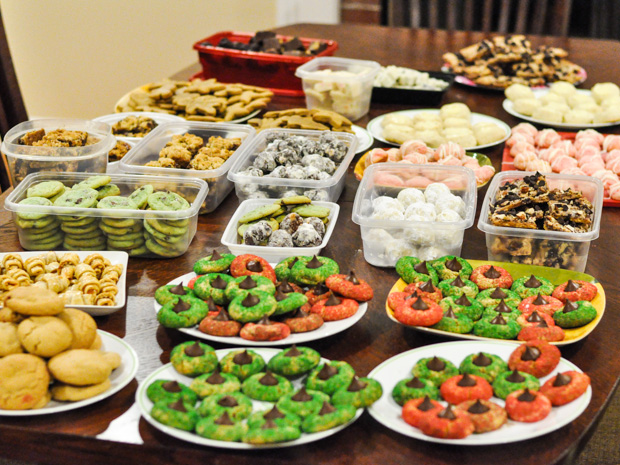 Cookie Bake 2012
Peanut Butter Blossoms
Chocolate Crinkles
Peanut Butter Snickers Cookies
Apricot Rugelach
Mint Chocolate Chip Cookies
Cherry Tea Cakes
Gingerbread Cookies
Russian Tea Cakes
Lemon Cheesecake Shortbread Cookies
Salted Toffee Chocolate Squares
Turtle Cookie Bars
Oreo Truffles
Rocky Road Fudge
Cake Batter Fudge
Peanut Butter Chocolate Swirl Fudge
Cranberry Pistachio White Chocolate Bark (in Gingerbread man mold)