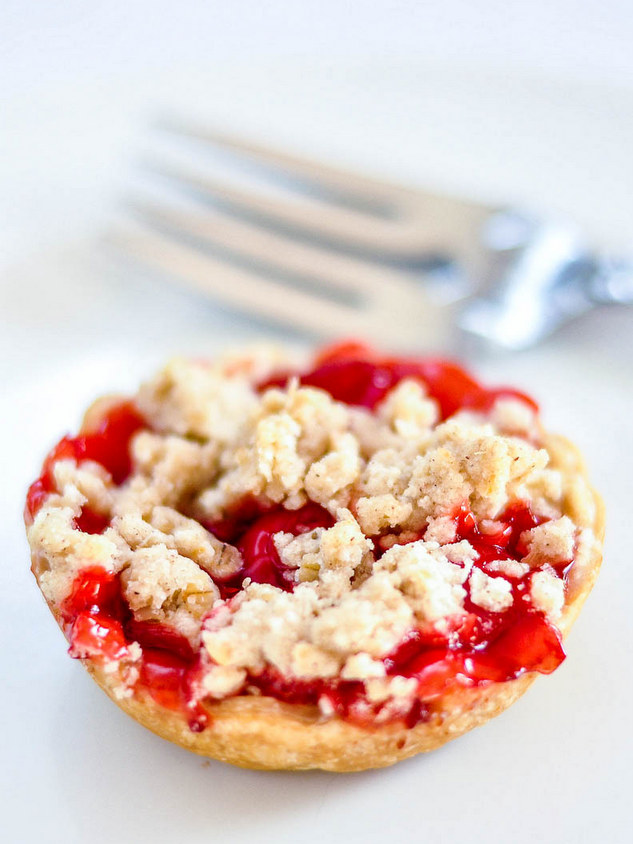 I have a slight "thing" for Cherry Pie filling, okay a big thing.
 It is the only canned pie filling that I love.  I admit that I accept any excuse to eat it on or in something.
When planning my menu for Thanksgiving this year, I knew I wanted to make a Cherry Pie.
This year my hubby's birthday fell on Thanksgiving so I had to figure out a way to incorporate holiday staples with birthday cake.  I could imagine my guests thinking I was really taking my cooking to ridiculous heights if I made full size versions of everything I wanted to make.  So I decided to make miniature desserts consisting of birthday ice cream cake cupcakes, mini pumpkin pies and mini cherry crumb pies.  This was my way of making all the things I wanted without having a ridiculous amount of leftovers.
These pies were super easy to make and quite cute.

Mini Cherry Crumb Pie
Author:
My Love for Cooking
Ingredients
1 package refrigerated pie crust rolls (or homemade)
1 can Cherry Pie filling
½ cup butter
1 Cup brown sugar
¾ cup flour
¾ cup Oatmeal (not instant)
½ tsp cinnamon
¼ tsp salt
Instructions
Unroll dough
Cut out desired shapes with a two and a half or 3 inch circle cookie cutter
Press into muffin tins
Prick bottoms with knife
Add about 4 cherries into each cup
Crumb topping
Mix Brown sugar, flour, Oatmeal cinnamon and salt until combined
Cut butter into squares and blend in with fork or pastry blender until it resembles coarse crumbs.
Sprinkle over the top of each pie
Bake at 375 degrees for about 15 minutes*
Notes
* Cook time will depend on your oven, watch carefully
Related posts:
Nicole Michaud