Hi, this is Mike, Nicole's husband.  Nicole is letting me guest post this week as she made these brownies for my team at work.  Let me introduce you to the flying monkey!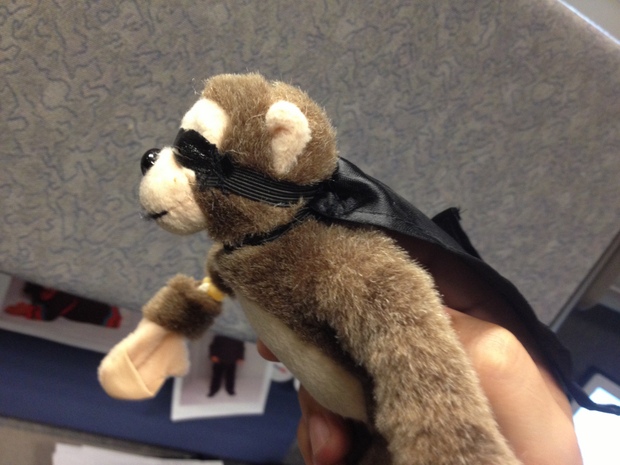 You have to watch out for this guy.  People will hide him somewhere on your desk.  If you don't find him and give him a new home on someone else's desk, you are supposed to bring in treats for the team.  Apparently it was sitting on my desk all week without me ever noticing it.  Fortunately for me (and the team), Nicole loves to bake so she is happy to make something delicious!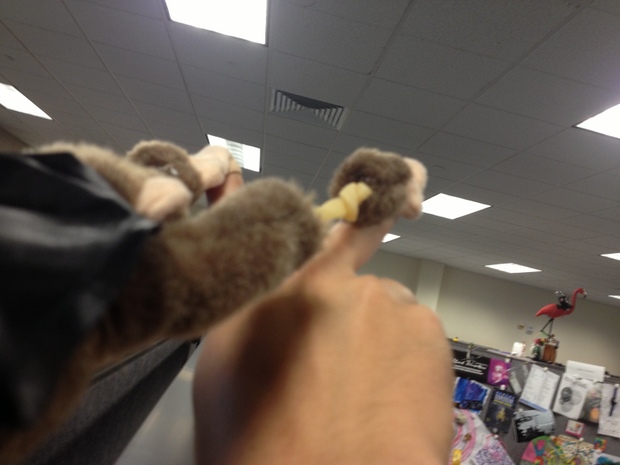 What better way to celebrate the flying monkey than to bake something with banana.  In honor of the flying monkey, Nicole came up with these Flying Monkey Banana Fudge Brownies.  I brought them to work and the team loved them!  When you get caught with the flying monkey and you bring something in, you get immunity from the flying monkey for a while.  That doesn't really matter since I'm sure I'll be bringing in more tasty treats.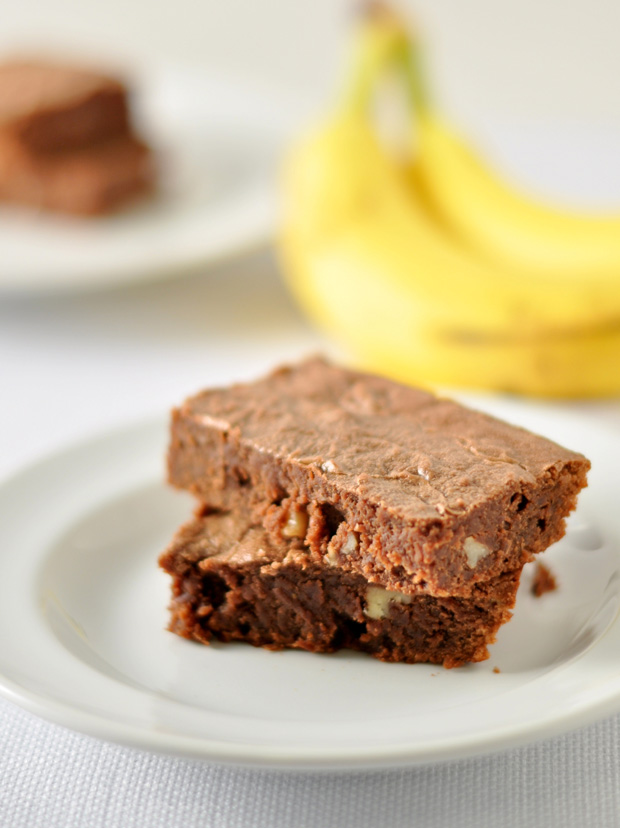 Flying Monkey Banana Brownies
Author:
My Love for Cooking
Ingredients
¾ Cup and 3 Tbs butter
1¼ Cups Semisweet chocolate chips
2 Large Eggs
1¼ Cup packed light brown sugar
2 Small ripe bananas, mashed
1 tsp Vanilla extract
½ tsp Salt
1⅓ cup and 1Tbs All purpose Flour
½ cup walnuts - *optional
Instructions
Preheat oven to 325 degrees. Grease a 9X13 in pan
Melt butter in sauce pan over medium low heat. Remove from heat, add chips, and stir till melted. Set aside and cool for five minutes.
Lightly beat eggs in a medium bowl. Stir in brown sugar, banana, vanilla and salt
Pour the melted chocolate mixture into the banana mixture, and stir until well incorporated.
Add the flour, stirring until just mixed. Spread the batter into the prepared pan.
Bake in preheated oven until a toothpick inserted near the center comes out with moist crumbs. Remove and cool pan completely before cutting.
Notes
Depending on your oven the time can vary so make sure to check often if not done within the 30- 35 minutes (every five minutes after).
Mike