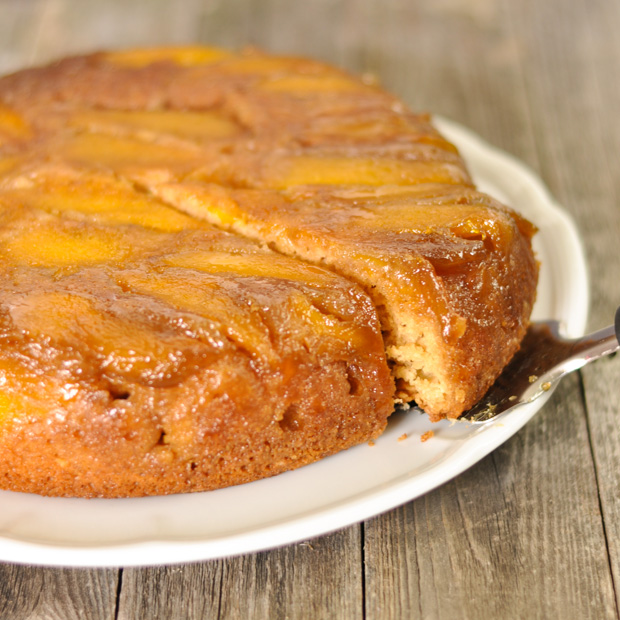 Wow! I have never had such a crazy time in the kitchen working on a blog recipe.  I set off the smoke alarm and had a very tiny fire (that was instantly put out) happen during the baking of this recipe.  It was admittedly "chef error." :/
I will spare you the drama by giving you one simple tip I took away from this.  Please use a lipped cookie sheet under your pan when making this.  I had honestly never made an upside down cake before and did not anticipate the caramelizing sugar syrup to overflow from underneath and that is how I got into trouble with the smoke alarm.  The fire started when my quick drip fix was to throw a piece of aluminum foil under the pan after I wiped the bottom down….nope did not work, hence the fire.  Sheesh!  I thought the cake was a goner honestly after all this, but it came out perfect.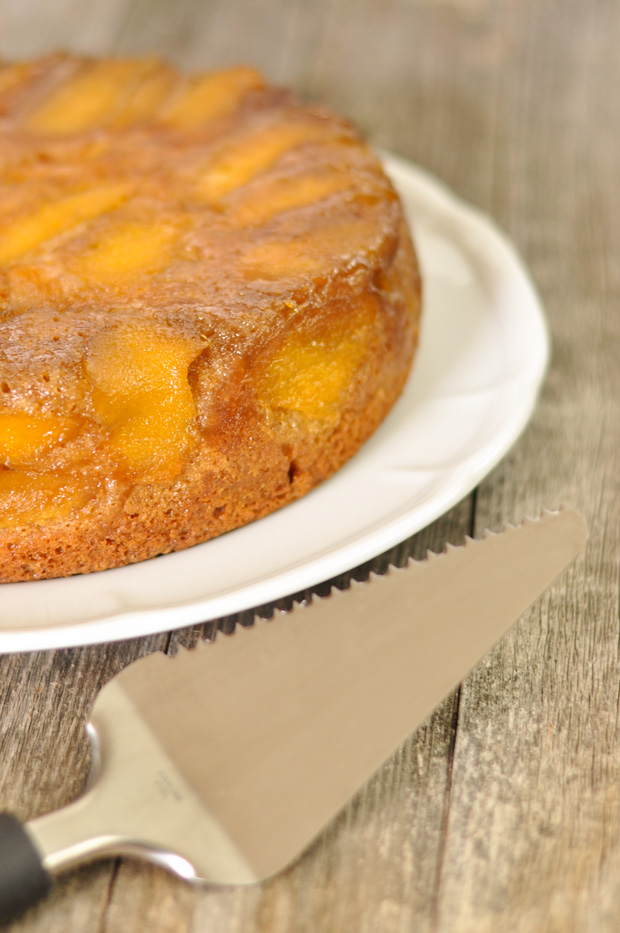 This is a really nice twist on the traditional Pineapple version and it is just sweet enough without being overly sweet.  Take the proper precautions please and enjoy!
Mango Upside Down Cake
Author:
My Love for Cooking
Ingredients
1 stick melted unsalted butter
½ cup brown sugar
1-1½ Mangos sliced
1 cup Buttermilk
2 eggs
1 cup Sugar
2 cups Flour
1 tsp baking soda
½ tsp salt
Instructions
Preheat oven to 350 degrees
Melt butter and allow to cool a bit
Carefully pour ½ of butter into the pan and move around to keep from sticking
Sprinkle the brown sugar over the butter evenly
Place the sliced Mango pieces in a single layer over sugar
Combine Buttermilk, the remainder of butter, eggs sugar, flour, baking soda and salt
Mix till well combined
Pour batter and spread evenly over Mango slices
Place the cake on a lipped cookie sheet and bake from 45 minutes to 1 hour depending your oven.
Allow to cool for at least five minutes before transfer.
Carefully flip onto a plate or cake stand
Notes
*You can also use a Cast Iron Skillet in making this
Related posts:
Nicole Michaud